Tidal Waves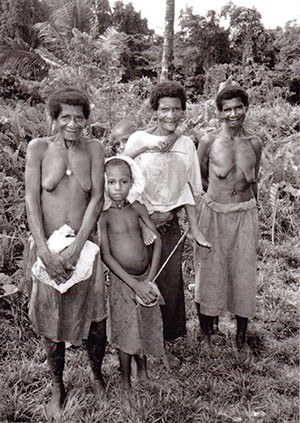 Synopsis
Cast 10 - 4F 6M
Setting A Stone Age village
TIDAL WAVES is a about a completely marginalized people who have no voice against the global subsuming of indigenous cultures. It is an ensemble piece set in a Stone Age village.
We follow Luke a young clan chief and his family as they are confronted by the unscrupulous outside world and hurtled from bush telegraph to cell phone in one generation.
The five exploiters are played by one actor. First to come is the Canadian Missionary, ordering the women to burn their grass skirts and the men their pagan carvings. Next we meet the Australian Expat who bribes Luke to sign a logging contract. Hot on his heels is the British Environmentalist, hell-bent to designate a conservation area barring their rights to hunt and harvest. Then the Chinese Gold Buyer arrives, providing dredging machines that pollute the river and kill the fish. Finally the tribe is wooed by the German Carbon Trader who promises a canoe full of money for doing nothing at all! (But when will the canoe arrive?)
Incredibly – and despite major ructions – the family survive the onslaught, as the women led by Gloria, Luke's wife, and Enid his mother-in-law, fight to save their treasured culture.
TIDAL WAVES is based on events that I witnessed over twenty years working with the peoples of the Upper Sepik, Papua New Guinea.
Currently, I'm dreaming up a 5-part TV series based on the same story but instead of young chief Luke as the protagonist, we will see the unfolding events through the eyes of Enid his mother-in-law, who goes to the forest every day to beat sago...
The working title will be STONE AGE WOMAN.