Cheetah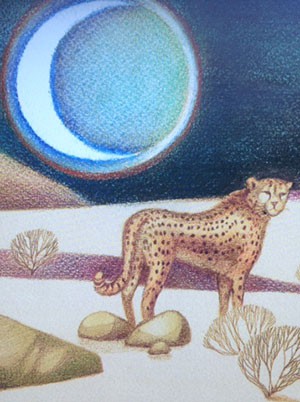 Screenplay Outline
A wildlife thriller
Inspired by real events that are prevalent in Iran right now, CHEETAH tells the story of how Persia's "Jewel in the Crown" - the Asiatic Cheetah - is fighting for its survival.
Rangers and Poachers are living and fighting at the crossroads in a battle between nature and human nature.
We follow Hassan, Director of the Cheetah Reserve, who is doing all he can to mediate and resolve the enormous social, environmental, and political conflicts. His case is supported by the visit of an Irish Photographer who is out to get his 'killer pic' of the rare Asiatic Cheetah in the wild & remote eastern deserts of Iran; exclusively for the front page of his International Wildlife Magazine.
A young Iranian village schoolgirl, inspired by her visiting Art Teacher from Tehran, is determined to uncover the mystery behind something untoward going on – even within her own family.
We are taken on a thrilling ride as we sense that the CHEETAH is a conduit for us; to resolve in ourselves the internal and external battle for truth, understanding, and harmony.
8 Iranian Conservationists involved in protecting the Asiatic Cheetah are currently being detained.
Stage-play Synopsis
The stage-play CHEATING THE CHEETAH was written first and is set in a similar location. The herding family feature in both play and film. While the predecessors of the film's protagonists HASSAN and AGUAH are, in the stage-play: REZA a radical young zoologist and LEILA a London-based artist, passionate supporter, and illustrator of the cheetah storybook.