Cheetah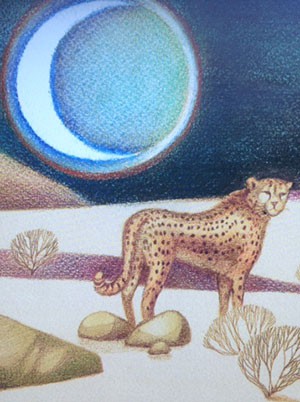 Screenplay Outline
A wildlife thriller
When an ex-war photographer is sent to Iran on a wildlife assignment, he finds himself at the heart of a global cause being fought from an unknown backwater, and is faced with challenges beyond his worse nightmares.
Everyone loves the Big Cats but few are aware of the Asiatic Cheetah, now on the brink of extinction. So when gung-ho COLUM wins a job to photograph them, he jumps at it and heads for the lawless deserts and wind-scooped mountains of Eastern Iran.
Here he is put in the hands of Cheetah Reserve Director HASSAN but finds himself in the cross fire between rangers and poachers. Hassan's approach is to employ the poachers. Thus Colum's trekking guide is tribal leader and ex-poacher MUSTAFA.
Local art teacher Miss AGUAH is championing the cheetah campaign with a school project when she collides with a defenceless Colum. They click. Her star pupil is NAZRIN, Mustafa's daughter, who leads the project - a storybook called 'Cheating the Cheetah'.
Out in the forbidding wilderness, Colum discovers a ranger shot in the neck. Mustafa is implicated and Colum is left in peril to chart his own course, as tensions escalate and the fastest runner in the world still eludes him. Hassan is forced to axe his guides and Mustafa, shamed, returns to his old ways.
Aguah's contentious project turns her students into activists, but those out to get her for her forthright stance gather their evidence and she's fired. Meanwhile an emboldened Nazrin becomes her own detective in unravelling her father's secrets.
Packing up camp on his last morning, a defeated Colum is finally blessed with a sighting of glorious cheetah cubs and gets his killer picture. But down the canyon a gunshot rings out. Mustafa kills the mother cheetah and, in retribution, is himself shot. Salvaging a last glimmer of hope Hassan, assisted by Nazrin, rescues the motherless cubs and transports them to safety.
CHEETAH is the story of a foolhardy outsider drawn into a web of ancient traditions and conflicting values. Humbled by the local unsung heroes, he rallies them - in their darkest hour - to be winners in their monumental struggle to save one of the planet's iconic species.
8 Iranian Conservationists involved in protecting the Asiatic Cheetah are currently being detained.
Stage-play Synopsis
The stage-play CHEETING THE CHEETAH was written first and is set in a similar location. The herding family feature in both play and film. While the predecessors of the film's protagonists COLUMN and AGUAH are, in the stage-play: REZA a radical young zoologist and LEILA a London-based artist, passionate supporter, and illustrator of the cheetah storybook.