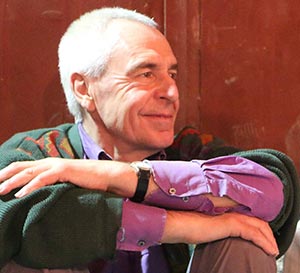 In my other life as Richard Edmunds before I discovered my Jewish roots, I studied Biological Sciences at Kings College London, then shocked my professors by announcing I was off to Bristol Old Vic Theatre School. Subsequently, turning from acting to writing I had some early success on RADIO 4 and the LONDON FRINGE.
Overwhelmed by my yearning to help protect the natural world, I turned again - this time with my husband Nigel Hughes - to rainforest protection. Devising eco dramas with indigenous actors in PAPUA NEW GUINEA, we toured by dugout canoe and played to rainforest villages that had no concept of industrial logging. This led to the protection of 2,000 sq miles of primary forest, home to the Birds of Paradise.
The founding of Green Light Trust followed. Its aim: ongoing partnership with the rainforest people and motivation of communities to take local action here in the UK.
Eight years ago we handed over the Trust to a new team. This allowed me to return full time to my first passion - WRITING. I sought a teacher to bring me up to date on style and demand. I found him in dramaturge Rob Drummer to whom I offer immense gratitude.
Throughout my tortuous writing years, my greatest writing support has come from Nigel and Vipassana Meditation, as taught by S. N. Goenka, and which I practice daily. Enduring thanks to both!
In Spring 2019 Nigel formed a start up company, Outstanding.Global. Its aim is to trail-blaze openhearted and inclusive Leadership Training. It also supports the Arts, with its inaugural project - my CHEETAH screenplay. Bedlam Films are now on board to produce the film, with Outstanding.Global providing the initial development fund.